There are a few small things you should at least consider for WordPress sites to ensure good search engine rankings for the German market.
A decent SEO plugin
Many people use Yoast because they've been around the longest and probably do the best marketing. But I swear by SEOpress*. Not only because it is much cheaper, but also because it has more features.
With SEOpress* and the following SEO-relevant minimum requirements, I got this post to rank 3 on Google under the keyword "remove Fritz Box branding". And that was rather by accident…
Minimum requirements
1. a decent (speaking) URL: the most important terms are included in the URL. In the example above it is fritz-box-branding-remove.
2. title and meta description: the title of the article should of course already contain the terms it is about. The title, which can be set separately in the SEOpress* options, can be different and more detailed. But it does not have to be.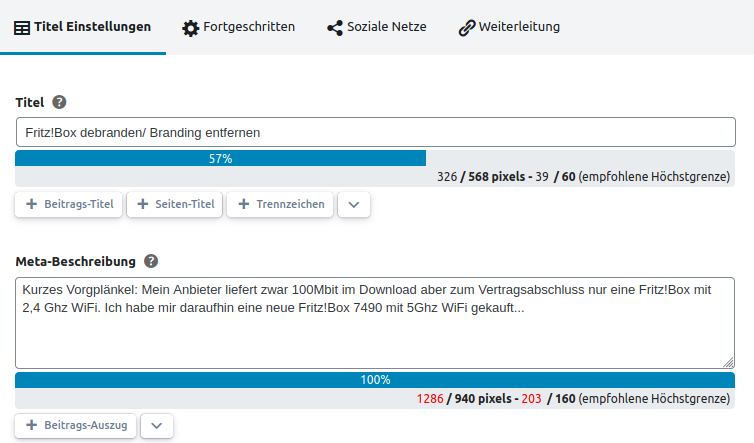 Avoid the red numbers. Anything above 960 or 160 will not show up in Google search results anyway.
3. Open Graph meta tags
Theoretically, these are "only" important for the optimal display of your posts in social networks, but you can also play with the content and let it deviate from the previously mentioned meta tags.
Over time, my experience has shown that the posts are processed much better by the search engines if the Open Graph tags are also filled in.
Create a sitemap.xml
No-brainer number 2 after the SEO plugin, but as simple as it is, it is also useful.
SEOpress* allows you to hide certain content elements from the sitemap. I find that less is more and I concentrate on the things that are important. In the case of a blog, that would be all the posts, of course. I don't show all the subpages, such as contact and so on, in the sitemap. I follow a simple pattern: what do I want to see in the search results? Nobody cares about the imprint or the privacy policy. So take them out of the sitemap!
Categories, portfolio, archive and any custom post types (taxonomies) generated by the theme or plugin can also be removed. For a blog, the posts and very few sub-pages, such as contact, are enough.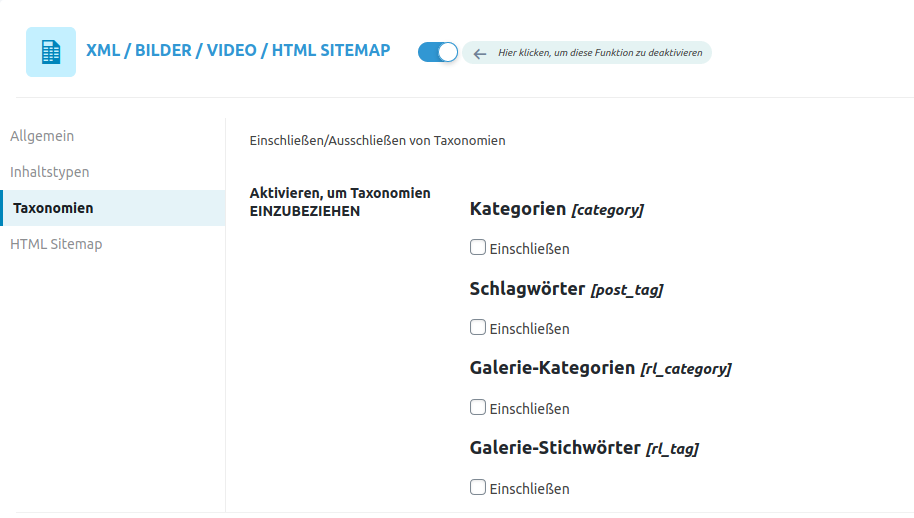 The sitemap can be submitted to Google, Bing, etc. using the appropriate webmaster tools. You can simplify it a bit by copying the following URLS and customising them:

http://www.google.com/webmasters/sitemaps/ping?sitemap=HERE_IS_YOUR_SITEMAP_URL

http://www.bing.com/webmaster/ping.aspx?sitemap=HERE_IS_YOUR_SITEMAP_URL
What else can companies do?
My day job is advising businesses on how to communicate digitally. Before doing this full time, I learnt that backlinks to your website are worth their weight in gold and was able to try this out many times on what were then smaller projects for friends and acquaintances. In the course of time, a list of providers has emerged that you should definitely check out. Some of them have no direct backlink effect on you due to nofollow, but their relevance in Google/search engines also helps to show you in the corresponding search.
Google Maps – Create or take over your own listing through Google Business and fully customise it.
Foursquare – Still relevant in this respect. However, it now costs $20 to take over an entry, they know their function. You can do this if there is already a listing for the business, and you have little or no control over it.
Yelp – Hardly interested any more, I have the feeling. But anyway, listing there hardly costs any time and helps!
cylex.de – It feels like the oldest business directory on the net. Next to Google Maps, this is a must. Here you have to make sure that you don't accidentally select the payment option.
Other map services: Bing, Here, OpenStreetMap – Of course, this does not directly affect your Google search results, but there is still reach to be gained elsewhere, and these services are the most important in this respect.
The following services can also be done: 11880.com, golocal.de, stadtbranchenbuch.de, dasoertliche.de (Entry is only online for three months)
Important: I recommend that you always use the same titles, terms and text. Always include details such as email and web addresses and phone numbers, especially the web address! #doh
In the title something like "Company name – Specialist in XYZ" where XYZ is the keyword that identifies you and your competitors. If this is the same for all the services mentioned above, there is a very good chance that you will appear in a search result for that keyword.
So much for the basics. This is really the bare minimum and often not enough. My Fritz!Box post, for example, was just luck, other topics on the blog don't work so well, and depending on how competitive topic X is, even these basics may not work wonders.
The acid test, of course, is this post. If what I wrote is true, this should be pretty far ahead soon. Although I suspect that WordPress SEO is even more hotly contested than Fritz!Box branding removal. We shall see!
—
* With this affiliate link you can support the work of schongeil.de if you buy something for yourself via this link.